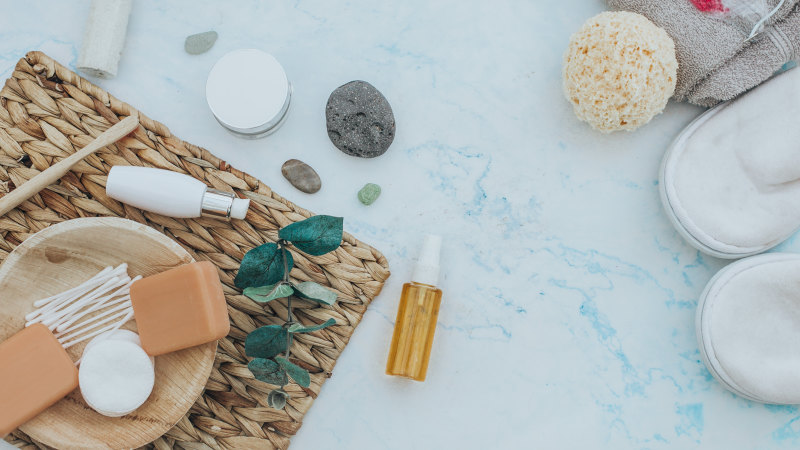 Where to go: THE BLOW, Melbourne, VIC
What to ask for: Rich Girl Hair
What to expect: For big business women in Melbourne's CBD, a membership at THE BLOW is the secret to getting in that kickboxing class, clearing your inbox and rolling into that 8am meeting looking like Kate Middleton. The blowdry bar took a seven-week break during lockdown but is now open and aligned with the new order. Owner, Phoebe Simmons says, "we've extended service times to accommodate ample cleaning, gone cashless and are operating just three chairs at a time as opposed to eight, but otherwise it's business and blowdries as usual." There are seven styles to choose from at THE BLOW, but Simmons says the true signature style is Rich Girl Hair: glossy S-bends with not a strand out of place. If you've got time to spare, add on a gloss treatment or salt scrub massage ($15 each) and really make the most of having someone else do your hair.
The damage: $60 and 45 mins.
Loading
Where to go: Herbario, Prahran, VIC
What to ask for: Face Detox and Muscular Stress Treatment
What to expect: Herbario co-owner and natural therapy practitioner Valli Shubere has magic hands. Combine with the brand's homemade herbal concoctions and she can treat everything from lacklustre skin to severe teeth-grinding. As devotees of Valli will attest, this treatment will hurt (but then feel good), she will probably put her (gloved) hands in your mouth, but your face will be transformed, appearing younger, more rested, more radiant. Like a pandemic never happened.
The damage: $360 and 100 mins.
Where to go: Jocelyn Petroni, Woollahra, NSW
What to ask for: The Naked Manicure
What to expect: If it weren't for lockdown, you'd never have had the discipline to grow out your acrylics or get rid of that last bit of shellac, but now you have virgin nails, and this is the manicure that will capitalise on them. Nails are shaped, keratin treated and buffed to perfection. The result? Healthy nails with a glass-like shine in the exact shade you've been trying to achieve with "nude" polish, aka the nail holy grail. This treatment also includes an arm and hand massage, which, if you've never experienced, you might not think much of, but is actually the definition of bliss.
The damage: $70 and 45mins.
Where to go: Kristin Fisher Eyebrows, Double Bay, NSW
What to ask for: Natural Brow Wax and Tint
What to expect: This place is a real treat for the eyes, both because the decor is dreamy and because they specialise in framing peepers to perfection. The technicians here will guide you on your brow journey so that they become your favourite feature, complimenting your face and enhancing your complexion (did you know brows could do that?). For the full effect, add a Lash Lift & Tint ($130) to your booking. Appointments are tight with KFE regulars flocking back, so expect to wait a few weeks.
The damage: From $80.
Where to go: MECCA, Mecca Cosmetica or Mecca Maxima
What to ask for: Mecca Glam
What to expect: Services are back on at MECCA, but with fewer chairs appointments are even more limited than usual. So for all those rescheduled celebrations, find out the new date, and immediately book your spot. The artists at MECCA really know their stuff and will listen to what you want, so you don't need to worry about looking OTT (unless that's what you're after). The best bit of MECCA services is that the cost of the application is redeemable in product, so you can leave your glam session looking fabulous and stocked with the tools to touch up.
The damage: Mecca Glam, 90mins, $150 redeemable on products.
Where to go: Melanie Grant, Double Bay, NSW and Armadale, VIC
What to ask for: Custom Skin Health Facial
What to expect: So you're ready to really invest in your skin? You've come to the right place. It doesn't come cheap, but the reward is a bright, glossy complexion, like you've seen on their celebrity clients Lara Worthington and Nicole Warne. This facial is recommended for first-time clients, and is entirely directed by the consultation that precedes it. Your prescription may include return visits and the incorporation of skin tech. Melanie and her team use lasers and IPL to truly correct and repair damaged skin, so if you have a more serious skin concern: scarring, sun damage or uneven colour and texture, they can assist with healing imperfections.
The damage: $390 and 90mins.
Alexandra Whiting is a former beauty editor and freelance journalist.
Get our Morning & Evening Edition newsletters
Source: https://www.smh.com.au/lifestyle/beauty/it-s-time-for-some-self-care-these-luxury-beauty-treatments-can-help-20200616-p5536z.html
» Inline Ad Purchase: Intext Link