The global search for treatments and vaccines to bring the coronavirus pandemic to an end is an ongoing challenge, as the outbreak has now infected 4.8 million people worldwide, with over 319,000 deaths.
In the UK, 27,432 people have died from Covid-19. The Government is forging ahead with its gradual easing of lockdown measures.
Here is your daily briefing of coronavirus news you may have missed overnight.
Scientists have warned that the much-anticipated coronavirus vaccine being developed by researchers at the University of Oxford may only offer "partial protection" following "concerning" results of trials in macaque monkeys.
The full results of the vaccine trials on mice and rhesus macaques at the US National Institute of Health's Rocky Mountain Laboratory were made public last week in a non-peer-reviewed preprint.
Researchers found a single dose of the vaccine prevented all six monkeys that received it from developing pneumonia, but did not prevent the coronavirus infection.
Some scientists, who were not involved the study, raised concerns that if the results were replicated in humans, those vaccinated would still be able to spread Covid-19.
Prof Jonathan Ball of the University of Nottingham said: "If this represents infectious virus and a similar thing occurs in humans, then vaccinated people can still be infected, shed large amounts of virus which could potentially spread to others in the community.
"If the most vulnerable people aren't protected by the vaccine to the same degree, then this will put them at risk. Therefore, vaccine efficacy in vulnerable populations and the potential for virus shedding in vaccinated people needs very careful monitoring."
In a further easing of the coronavirus lockdown restrictions, Northern Ireland has announced it will allow groups of up to six people to meet outdoors from Tuesday.
First Minister Arlene Foster unveiled a raft of new freedoms on Monday as the first step of the country's recovery plan, signalling a further departure from a co-ordinated four nations approach.
Under the new plans, churches are now allowed to open for private prayer and can hold drive-through services. Worshippers must remain in their cars during such services.
Other venues such as cinemas, concerts and live theatre performances will also be allowed to take place using a drive-through format, and some sports such as golf and tennis can resume as long as people practice social distancing.
However, people in Northern Ireland still cannot visit immediate family indoors, despite this being included in step one of the country's recovery plan.
Ms Foster said: "We would have liked to unlock the whole of step one but, quite simply, the reason why we haven't been able to move to indoor family gatherings is because of the medical advice.
"The relaxations we've announced have been made possible by the vast majority of you following advice. They have been hard-won freedoms and it's vital when you exercise them, it doesn't put anyone else's safety at risk."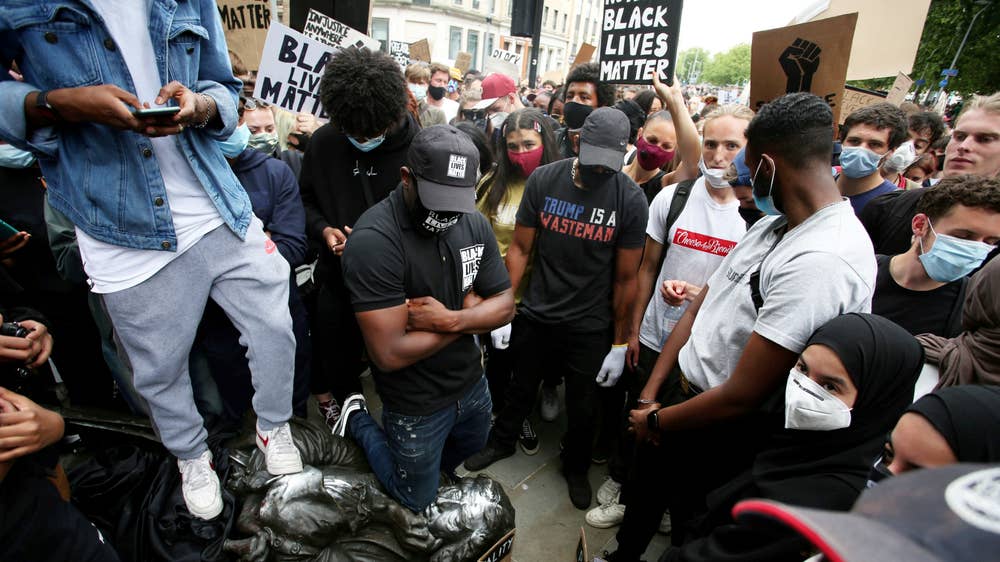 MPs have told Boris Johnson in a letter assessing the government's handling of the pandemic that the coronavirus testing capacity in the UK has been "inadequate" throughout the crisis and there has been a lack of transparency over some of its crucial decision-making.
The Commons Science and Technology Committee identified several lessons to be learnt from the UK government's response to the outbreak, which has seen its testing strategy slammed for not being aggressive or quick enough.
The committee also called on the government to "urgently" build up capacity for contact tracing. Its chairman Greg Clark said: "Testing capacity has been inadequate for most of the pandemic so far.
"Capacity was not increased early enough or boldly enough. Capacity drove strategy, rather than strategy driving capacity."
Public Health England (PHE) was also accused of repeatedly failing to answer questions over the "pivotal" decision to ignore mass testing in favour of other tactics.
Mr Clark said: "The decision to pursue an approach of initially concentrating testing in a limited number of laboratories and to expand them gradually, rather than an approach of surging capacity through a large number of available public sector, research institute, university and private sector labs is one of the most consequential made during this crisis.
"From it followed the decision on March 12 to cease testing in the community and retreat to testing principally within hospitals."
The US President revealed he is taking hydroxychloroquine, a malaria drug he has been touting for weeks as a coronavirus treatment, even though he has tested negative for the virus.
The Food and Drug Administration said last month: "Hydroxychloroquine and chloroquine have not been shown to be safe and effective for treating or preventing Covid-19.
"Hydroxychloroquine and chloroquine can cause abnormal heart rhythms such as QT interval prolongation and dangerously rapid heart rate called ventricular tachycardia."
But Donald Trump told reporters on Monday that "so far, I feel okay".
"It seems to have an impact," he said. "Maybe it does, maybe it doesn't… You're not going to get sick and die."
He said he has taken the drug every day for "about a week and a half now" and has had "zero symptoms".
The president's revelation comes several weeks after the New York Times reported the Trump family has a financial tie to the parent company of one of the firms that makes hydroxychloroquine.
Canadian researchers are studying the potential for marijuana to be used to prevent coronavirus infections, and have determined at least a dozen strains of cannabis that may offer potential as parts of treatments.
Researchers at the University of Lethbridge in Calgary are studying over 400 strains of cannabis. They say that the dozen effective strains have, in some cases, reduced virus receptors, which reduces the chance for an individual to contract Covid-19.
Dr Igor Kovalchuk told the Calgary Herald: "A number of them have reduced the number of these receptors by 73 per cent, the chance of it getting in is much lower. If they can reduce the number of receptors, there's much less chance of getting infected."
The preliminary study, which has not been peer-reviewed, is focused on preventing the virus from latching onto a host while in the lungs, intestines and mouth.
Further research is needed before they can understand whether CBD, THC or some combination of ingredients is causing the reduction in receptors, said Mr Kovalchuk, and if proven successful, medicinal mouth washes, gargles, gel caps or inhalants could be used to help reduce the risk of infection.